PUMPKIN DESIGN, YOU WILL FIND IT FUN AND RELAXING TO GROOM YOUR DOG OR CAT AND LET YOUR BABY WILL LOVE BEING BRUSHED!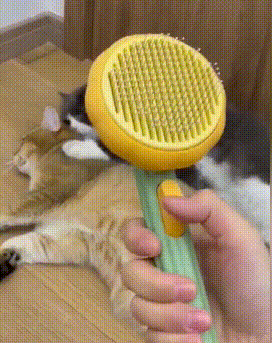 The bristles are fine bent wires designed to penetrate deep into the coat and are really able to groom the undercoat well without scratching your pet's skin! Regular brushing and massaging can help improve blood circulation and relaxes your pets. 
EASY TO CLEAN:
When you're done brushing your pet, simply click the button and the bristles retract back into the brush, Making it SUPER SIMPLE to remove all the hair from the brush, So it's ready for its next use.
SAFE AND DURABLE MATERIAL:
Our brush is specially designed with a COMFORT-GRIP and an ANTI-SLIP HANDLE, which prevents hand and wrist strain no matter how long you brush your pet!
WORKS ON MOST HAIR TYPES:
Short, medium, and long-haired, thick, thin, curly, and a big tangle, this professional pet brush can handle everything! And make your pet's coat soft and shiny.
SPECIFICATION:
Size: 7.99 x 3.43 x 2.91 inches; 
Weight: 5.54 Ounces
Material: ABS
Suitable for all pets that shed fur